File Viewing and Automated Editing, Exporting, Printing, Plotting and Distribution
Normica offers market leading software for higher productivity when working with PDF and plot files (HP-GL/2, RTL) and bitmaps.
Normica is an optimal interface between CAD, DTP, Internet and print with first-class exporting, editing, plotting and printing features.
Convert in high quality to HP-GL/2, RTL, PDF, EPS, DXF, DWF, EMF, WMF, SVG, TIF, BMP, JPG, PNG, and others. Edit, optimze, print and plot files.
Normica Products
1A Software Made in Germany
Choose from our Normica software the one that is right for you:
Normica View 2020 is best choice for viewing, printing and plotting. It greatly facilitate the inspection of graphic and technical drawings before they are printed.
Normica View Pro 2020 is the ideal software system for processing PDF, CAD plot-data and bitmaps; a precise and convenient editor for CAD and DTP.
Normica Batch-Processor 2020: The Normica scheduler and hot folders functions allows you to create integrated work-flows. Profit from the intelligent rotating and scaling functions, import stamps and many more.
Services & Support
Your Success is our Target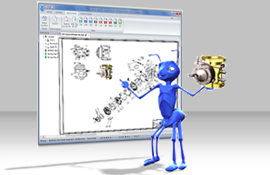 In our mind, a structured and solution-oriented approach is a matter of course.
We offer complete help manuals and additional online offers for the successful application of the Normica Software.
Benefit from the Normica subscription including all service- and release updates.
The Normica team with its long standing
support and development
skills is at your personal disposal. Please use our online contact forms, write us an Email or call us if you need any information.